Central Station:  Originally a forestry camp back when there was logging on the Island.  Take the time to wander through the old logging station and observe the relics of yesteryear.  The beautiful old trees, Central Station boasts a beautiful rain forest with displays explaining the development of the Island.  A variety of flora and fauna is also on display.  A must is the boardwalk around the crystal clear (seriously, you'll think there's no water until you see the ripples) of Wanggoolba Creek.  Picnic areas are available.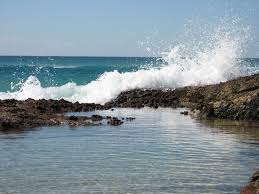 Champagne Pools: So named for their beautiful colour and bubbling water.  The Champagne Pools are formed by a natural volcanic rock barrier partially shielding the beach from the ocean surf which can provide a unique bathing experience on hot summer days.
Eli Creek: The largest creek on the eastern beach, a wonderful spot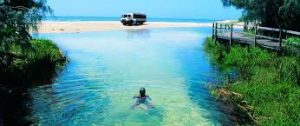 for a swim.  Take the esky or fridge, towels and body boards.  the kids will love it.  There's loo's here.
Fishing: Try along the eastern beach, at Waddy Point, or in the west-coast estuaries of Wathumba Creek.
Indian Head: Spectacular views from this high, rocky headland. Watch whales, rays and sharks in the sea below. A spectacular spot for photos.
Kingfisher Bay Resort:  The resort has a Day Visitors Area.  Swim in the pools, have a meal from the Bistro & enjoy a beverage.  Enjoy a stroll out on the wharf.  During quieter times enjoy a meal at the main resort.
Lake McKenzie: One of Fraser Island's best-known freshwater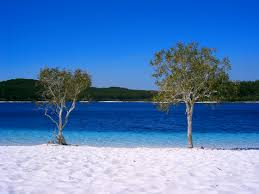 lakes. It is a refreshing swimming spot, with picnic facilities nearby and is a favoured area by bush walkers and nature lovers. Showers and toilets available.
Lake Wabby: Watch a sand blow in action as it gobbles up this concealed lake.
The Maheno: The most famous of the Fraser Island wrecks, was driven ashore just North of Happy Valley during a cyclone in 1935.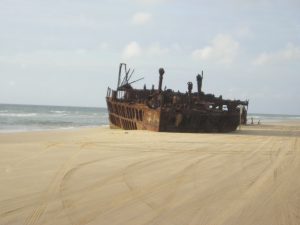 Waddy Point:  Fishing, sun and water.  You may find great gutters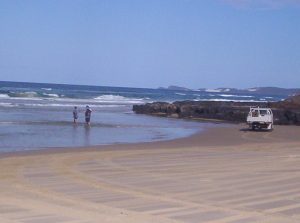 for the kids to swim  swim. Watch out for sharks, jelly fish and blue bottles.
Light House:  Top of the island.  Check to see if Ngkala Rocks are passable.  Bookings essential.  Ring 1 or 2 days in advance 07 415 23870.  It's a long, steep walk up hill, however great views of Sandy Strait.  Climb largest sand dune.  You might even see the rangers moving the Turtle eggs to higher ground.
Wathumba Creek:  A 30 minute drive to the western side of the island.  Fish or relax.  The estuary is well known as a bream spawning ground, abundance of flathead, whiting and mud crabs.
Platypus Bay:  A beautiful beach, seeing is believing.  Whales may be seen resting and playing after their migration north with their calves.
This is just a few, there is so much more to see and do.